| | |
| --- | --- |
| | The Week Ahead @LHS December 5-9, 2022 |
Fall Play - Studio 74 proudly presents The Lion in Winter, a historical drama about King Henry II and his dysfunctional family. Performances will be in Studio 74 from December 1-3 and December 8-10 at 7pm. Starting November 28, tickets will be sold at lunch in the quad or in front of the ASB office, and will be available at the door. Tickets are $5 for students and $10 for adults.



F=ma Physics Exam Signups - The F=ma Exam, a 75-minute exam with 25 multiple-choice mechanics questions, will occur on February 9, 2023. In order to sign up, students must fill out the binding interest form at tinyurl.com/lynbrookfma2023 and bring $15 in cash or check to Ms. Loia's Room (Rm. 305) during Wednesday Brunch or Friday Lunch by January 13, 2023 deadline.

STTAR Tutor Program - Students who would like to improve their grade in a particular subject may request a STTAR tutor. By starting tutoring early in the school year, students will be better able to keep up with their coursework and will be more confident in the subject matter. A STTAR Tutor Request form can be found under "NEED A TUTOR?" on the STTAR webpage: https://lhs.fuhsd.org/guidance-student-support/sttar-tutoring.

Homework Center - Students may drop in to Homework Center after school in the Library and get started on assignments. Student tutors are available until 4:45pm on Homework Center days. Textbooks are available for use in the Library. For more information, visit https://lhs.fuhsd.org/guidance-student-support/high-school-planning/academic-support.

Homework Center is open three days a week:

• Mondays 3:55-5:00pm
• Wednesdays 3:15-5:00pm
• Thursdays 3:55-5:00pm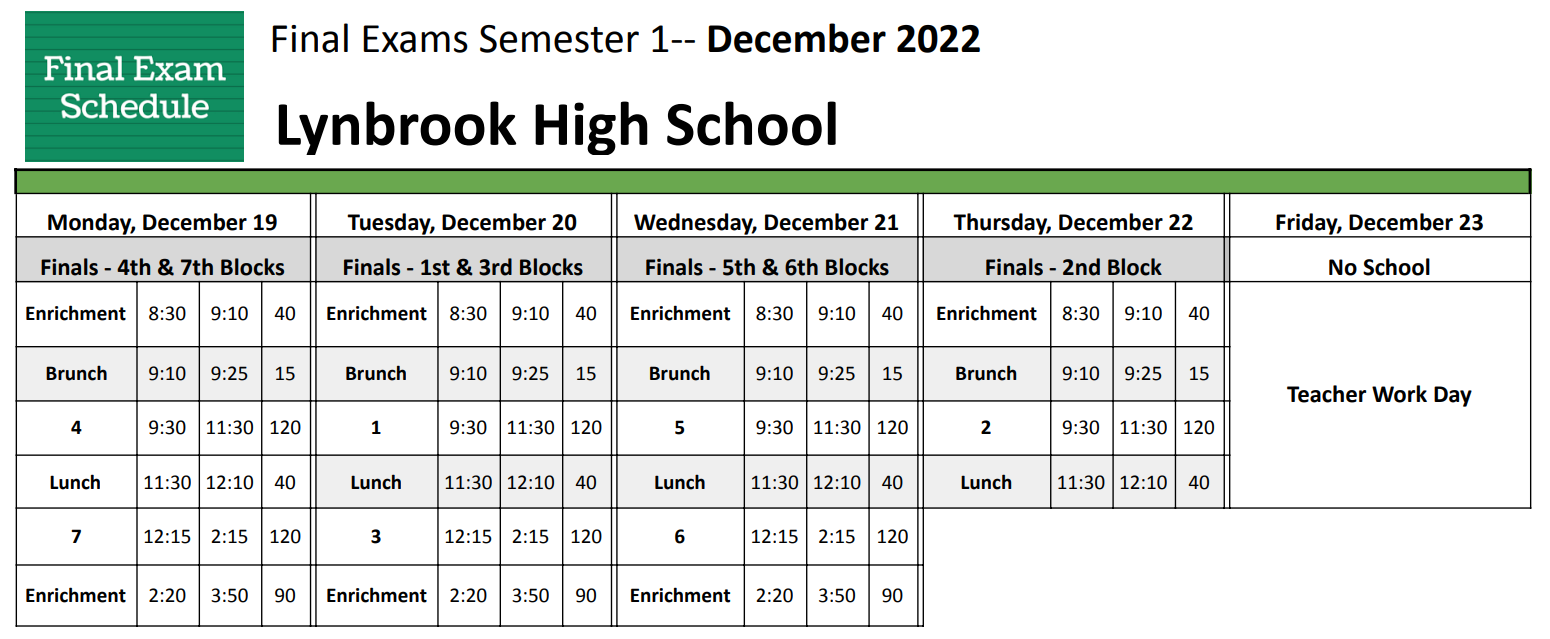 Congratulations
Cross Country - Last Saturday, Lynbrook's Cross Country team traveled to Woodward Park in Fresno, California for the CIF State Meet. Junior, Adarsh Iyer competed and ran beautifully. Starting out at 5:05 in the first mile, coming in at 109th place. He was patient and found himself moving up 70 spots to finish the final mile of the rigorous 5K course in 5:00 to come through in 39th place with a time of 16:00.5 putting him down as the 6th best time in Lynbrook history. Congratulations Adarsh Iyer!
Esports - Congratulations to Asgardians Esports for making it to Regional Playoffs! The Valorant Invitational finished its group stage on Sunday with team funhavers, De Anza Esports, Posi+ive, and Nom nom moving on to the playoffs. Congratulations to team captains Mathias Ooi, Tristan Dowdell, Justin Ngo, and Brandon Zhang for leading their teams to victory. Asgardian Chess (Leo Jiang, team captain) and Smash Ultimate (Tristan Lim, team captain) made it to the regional finals of their Esports league. They have a good chance of making it to the national competition and potentially winning a prize pot of $100,000!
Speech and Debate- Mr. Ogata the Speech and Debate advisor is pleased to announce that at the John Lewis Invitational tournament, Ahana Mangla was Finalist, 2nd, in Original Prose and Poetry.
A Note from Principal Jackson
Hello, Lynbrook!
Gratitude for Giving Tuesday: Thank you to all of the parents and guardians who shared from their abundance on Giving Tuesday. My heartfelt appreciation to all of those who made donations to PTSA, LEXE, Athletics, ASB, etc., throughout the school year. Your donations help Lynbrook students thrive. Many of you donate your time to marching band, cheer, athletics, drama, and other extracurricular programs. You are vital partners in our efforts to make Lynbrook a dynamic environment where "all can learn deeply, apply their knowledge and contribute purposefully." For those of you who would like to make a general donation to the school or give to a specific program before the end of the year, please reach out to Executive Assistant, Calvin Wong for assistance. He is happy to guide you.
Healthy Perspective: December is a stressful time for students. College acceptances for early decisions will be announced soon. Final exam season is approaching. What do students need most? They need perspective and encouragement.
A college that is considered "highly selective" will have an admit rate of 33% or lower. The 11 colleges with the lowest acceptance rates in 2020 are on almost every Lynbrook student's college list. These 11 colleges had Fall 2020 acceptance rates of 8% or lower. If there was an 8% chance of rain, I don't think anyone would be walking around with an umbrella. So why would one expect to be accepted to a school with a 5% acceptance rate? Be hopeful and realistic. A parent and guardian's words during this time have an immense impact on a student. Remind your student that college acceptances and rejections do not directly correlate to one's intelligence, worth, or future prospects. There are many paths forward. The key is to make the most of the opportunities that life offers, and don't fret too much about things you never had.
December is when students are gearing up for final exams. "When it comes to exams, having that positive mindset before you go into the room will help you feel at ease and more able to approach questions productively." Parents, help your students keep perspective. Assure your student that grades are not more important than one's mental, physical, and emotional well-being. Help your student gracefully accept the grade earned. Discourage your student from begging for extra credit or points to artificially boost a grade. One's grades in high school will not make or break their future. I know many people of character who are living fulfilled, successful lives and their high school grades were far from perfect.
Life is a long story. High school is a short, fun, action-packed chapter. There are many exciting chapters yet to be written.
Mrs. Jackson
Principal
| | |
| --- | --- |
| Anyone, anywhere can order Panda Express on 12/7/22 and it will count towards the Class of 2023 Grad Night fundraiser. Share code 911631 on your social media! Every order counts! 🐼 | To purchase frozen cookie dough and support the graduating Class of 2023, go to https://tinyurl.com/GradCookiesDec22 and choose from six different flavors. Enjoy the smell of freshly baked cookies over the holidays! |
1280 Johnson Ave. • San Jose, CA 95129 • (408) 366-7700